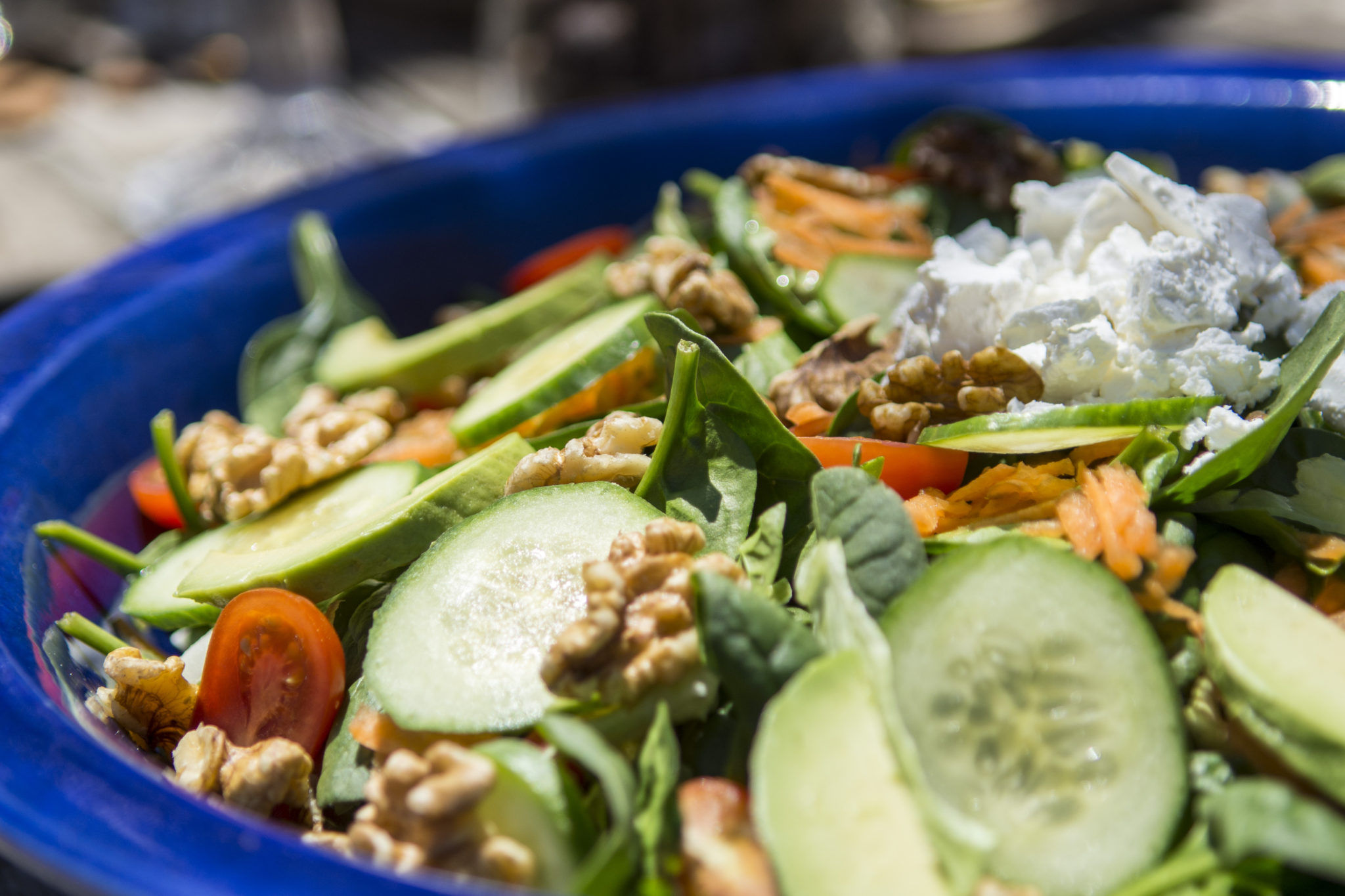 Vegetables are the least eaten food group – yet they are the most potent when it comes to nurturing and protecting your body. According to Australia's recent health survey: only 7% of adults and 5% of children eat the recommended amount of vegetables per day!
According to the World Health Organisation, about 6.7 million deaths are caused globally each year due to poor vegetable (and fruit) consumption. Research also shows that diets low in veggies can increase your risk of heart disease and some cancers.
So what's stopping you from including these powerful foods into your day?! Well let's start by telling you a bit more about them.
Vegetables are nature's medicine
Vegetables are packed with all the good stuff – vitamins, minerals, antioxidants, and fibre. And when you eat vegetables with your meals on a daily basis, they will form an internal armour – protecting your body from the onslaught of free radicals that you're constantly being exposed to. Free radicals can be produced in your body by a number of things, like: a high intake of processed foods (high in processed fats and sugars), alcohol, UV radiation, polluted air, and inadequate sleep. Some of these factors we can prevent but others are much harder to control, so vegetables can help buffer the inflammation these free radicals can create.
Not to mention, the soluble and insoluble fibres in vegetables will also help to fill you up at meal times, help you keep a healthy weight, reduce constipation, keep your gut regular, and help increase the amount of good bugs in your gut which are all vital for your wellbeing.
How much is enough?
To get the 'medicinal dose' of vegetables, it's key you have about 5-6 serves of vegetables a day. That's about 2 cups of vegetables at both your lunch and dinner meal.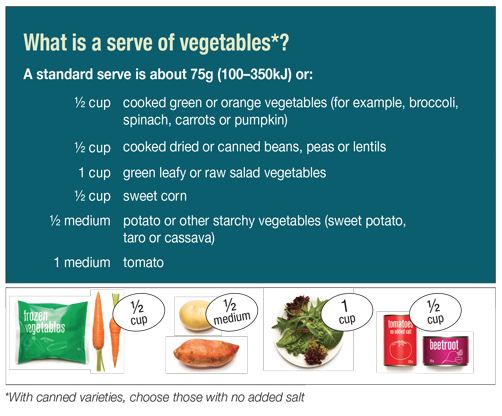 Source: Eat for Health 2015, www.eatforhealth.gov.au
What's the best way to eat them?
One of the best ways to add veggies to your day is by having a big bowl of salad with your lunch and dinner meals. Lightly steamed veg, baked veg, stir-fried veg, veggie sticks, vegetable juice, or a vegetable rich soup are also great ways to pack more veggies into your day.
Raw or lightly steamed veggies tend to have the highest amounts of nutrients as cooking for long periods of time can quickly reduce their nutrient content (and also make them less appealing to your tastebuds).
In some cases, however, cooking vegetables can increase the availability of nutrients to your body. For example, betacarotene from carrots are better absorbed by your body when they're cooked. Or lycopene, an antioxidant in tomatoes, is also more active when cooked down into a rich tomato sauce – which you might use in a pasta dish, soup, or casserole.
How you eat your veg can also depend on the season. Fresh salads and veggie sticks can be more appealing in spring and summer, whereas, baked vegetables or a warm vegetable and lentil soup will fit well in winter.
What's the best ones to buy?
Choose seasonal, local vegetables, as these require shorter transportation times – meaning they're fresher and more nutrient dense when you purchase them. Buying local is also a great way to support your local farmers and community.
Organic veggies are great for those that can afford them, but local veggies are just as nourishing – just give them a good wash before using.
Frozen veggies aren't a bad idea either as they are frozen crisp straight after harvesting, retaining all their nutrient goodness.
Growing your own veggies and herbs in your backyard can also be a fantastic option – just make sure you fence them off from your kale-stealing-Labrador like ours!
Potatoes aren't included
The humble potato can be a great addition to any meal when it's steamed or baked in the oven with some extra virgin olive oil, however, it shouldn't be the only veggie you eat. Variety in the vegetable world is key. Aim to get at least 3-4 different vegetable colours at each meal.
The colours in vegetables represent different antioxidants that will provide greater protection to your body when eaten together. As already mentioned, orange vegetables like carrots and sweet potato contain the antioxidant betacarotene, and red vegetables like tomatoes and red capsicum contain lycopene. Green vegetables like leafy vegetables, spinach, kale, and broccoli contain folate, lutein, and zeaxanthin. And purple vegetables like beetroot, red cabbage, and eggplant contain flavonoids and anthocyanins. So aim for a rainbow of veggies on your plate each day so your body can benefit from the protective plant nutrients they provide!
How to enjoy your veggies more
Vegetables are delicious and can add colour and vibrancy to any meal. The key is to keep your veggies as fresh and crisp as possible so that their beautiful flavours and colours can be appreciated.
Also, adding a drizzle of extra virgin cold pressed olive oil, lemon juice, a dash of herbs (like garlic, ginger, parsley, chives, dill, basil, coriander, or chilli), and a sprinkle of sea salt and cracked pepper on both fresh or steamed veg can truly make these powerful foods both dazzle and satisfy your tastebuds :).
Sneaky veggie addition ideas
We've mentioned the most common ways to include more veg in your day, but here's some that will fly under the radar of even the pickiest eaters!
Finely grate zucchini and add to oatmeal
Add anything finely chopped to your pasta sauce: capsicum, carrot, extra tomatoes, mushrooms, zucchini, rainbow chard…the sky is the limit!
Process leafy greens like kale and spinach in with your green smoothies or pesto
Mash sweet potato with regular potato
Add extras into your sandwich or wrap – grated carrot, slices of roast pumpkin, or some of that kale pesto!
Use pureed pumpkin in cheese sauce or cake and brownie recipes
Turn everything into chips! – carrot, zucchini, pumpkin, kale
Make a chocolate avocado pudding