Smoothie bowls are such a deliciously satisfying way to jam-pack your morning with nutrients! You can easily hide weird and wonderful ingredients inside them, and not even taste the difference.
This tropical green smoothie bowl provides amazing nutrition to energise you for your day. The banana and mango boast loads of soluble fibre for healthy digestion, B6 for your brain and metabolism, potassium to assist with a healthy blood pressure, and vitamin C which is an amazing antioxidant used for many processes in the body. And that's just scratching the surface!
The coriander and spirulina additions (go on, trust us 😉 ) are fantastic for removing heavy metals from your body which you can come across in your everyday environments. Spirulina is a blue-green algae which has around 60% protein by weight, has anti-inflammatory properties, and even adds heart-healthy iron to your diet (12 teaspoons of this forest green powder would be your iron requirements covered for the day…but we wouldn't recommend this taste bud torture! One teaspoon however, is unrecognisable in this recipe.).
So go on, put your ho-hum breakfast to the side and jazz up your morning with this deliciously vibrant meal!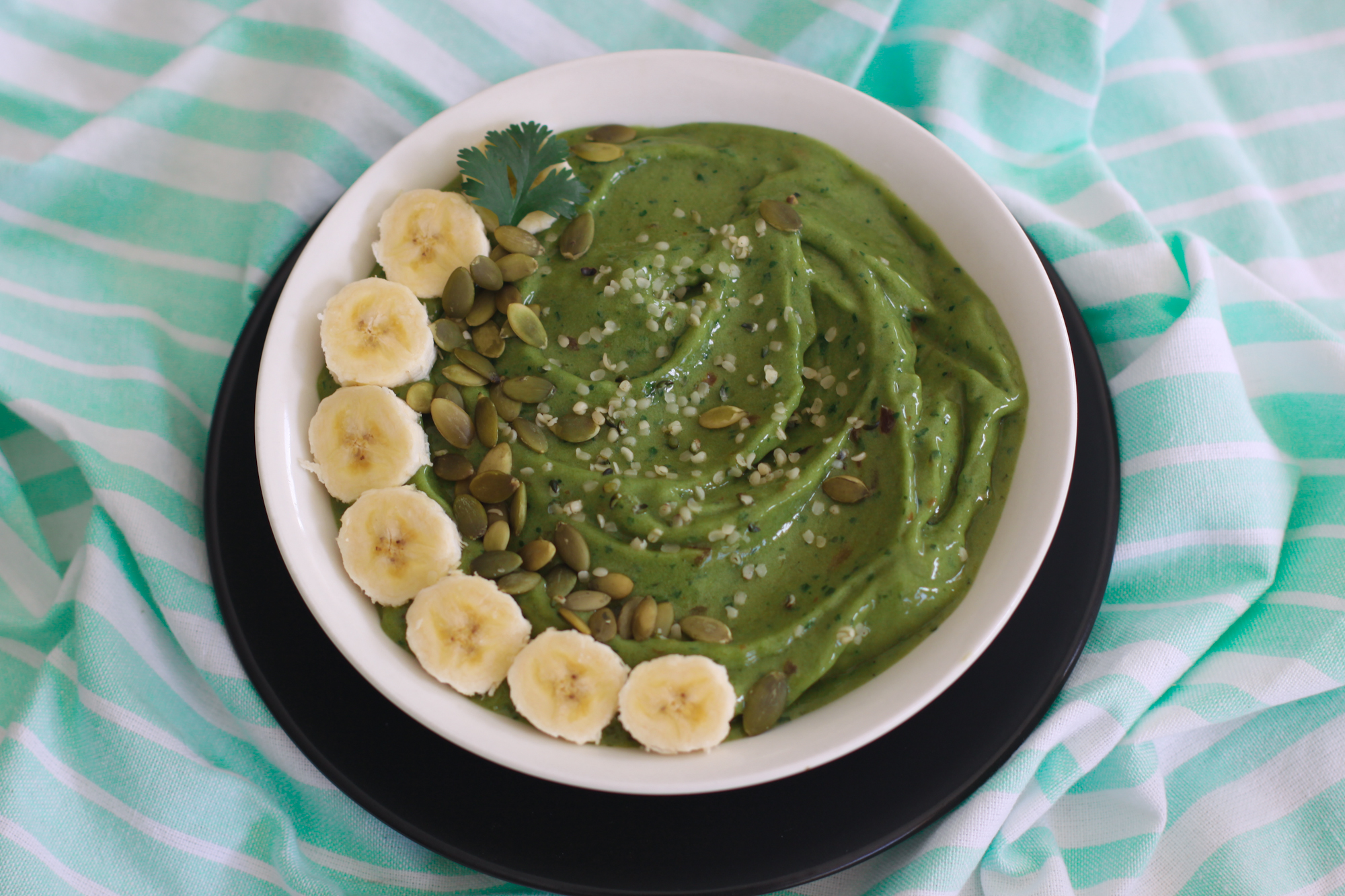 Ingredients
2 small/1 large fresh spotty banana, peeled
2 cups diced frozen mango
1/4 lemon, juiced
1 medjool date, pitted
6 sprigs of coriander, including stems
1 teaspoon spirulina OR a handful of spinach
Nuts/seeds/granola for topping (optional)
Method
1. Place all ingredients except toppings in a high speed blender, and blend until smooth and creamy. Instant ice cream, huzzah!!
2. Top with any delicious toppings you can imagine, and enjoy.