Fudgy. Chewy. Soft. Earthy. Chocolaty. What more could you ask for!? Oh, so you want amazing health benefits too? You've got it!!
These treats not only taste incrediball incredible, but they also pack a serious nutritional punch. Tahini is sesame seed butter, which provides protein (5 g per tablespoon), important B vitamins for energy, vitamin E, and calcium (almost 100 mg per tablespoon!) to support healthy bones. Hemp seeds are high in essential fatty acids omega-3 and omega-6, which can help to reduce inflammation in the body. With beautifying walnuts thrown in there to further increase omega-3, and medjool dates and cacao powder to boost energy (plus loads of other vitamins and minerals), they really are a nutritious snack to include in your diet… Just be sure to share. 😉
Ingredients
1¼ Cups walnuts
1 Cup medjool dates, pitted (we used 10 dates)
1 Tablespoon tahini (or substitute for peanut butter)
1/3 Cup hemp seeds
3 Tablespoons cacao powder
½ teaspoon vanilla bean paste OR 1 teaspoon vanilla extract
¼ teaspoon of sea salt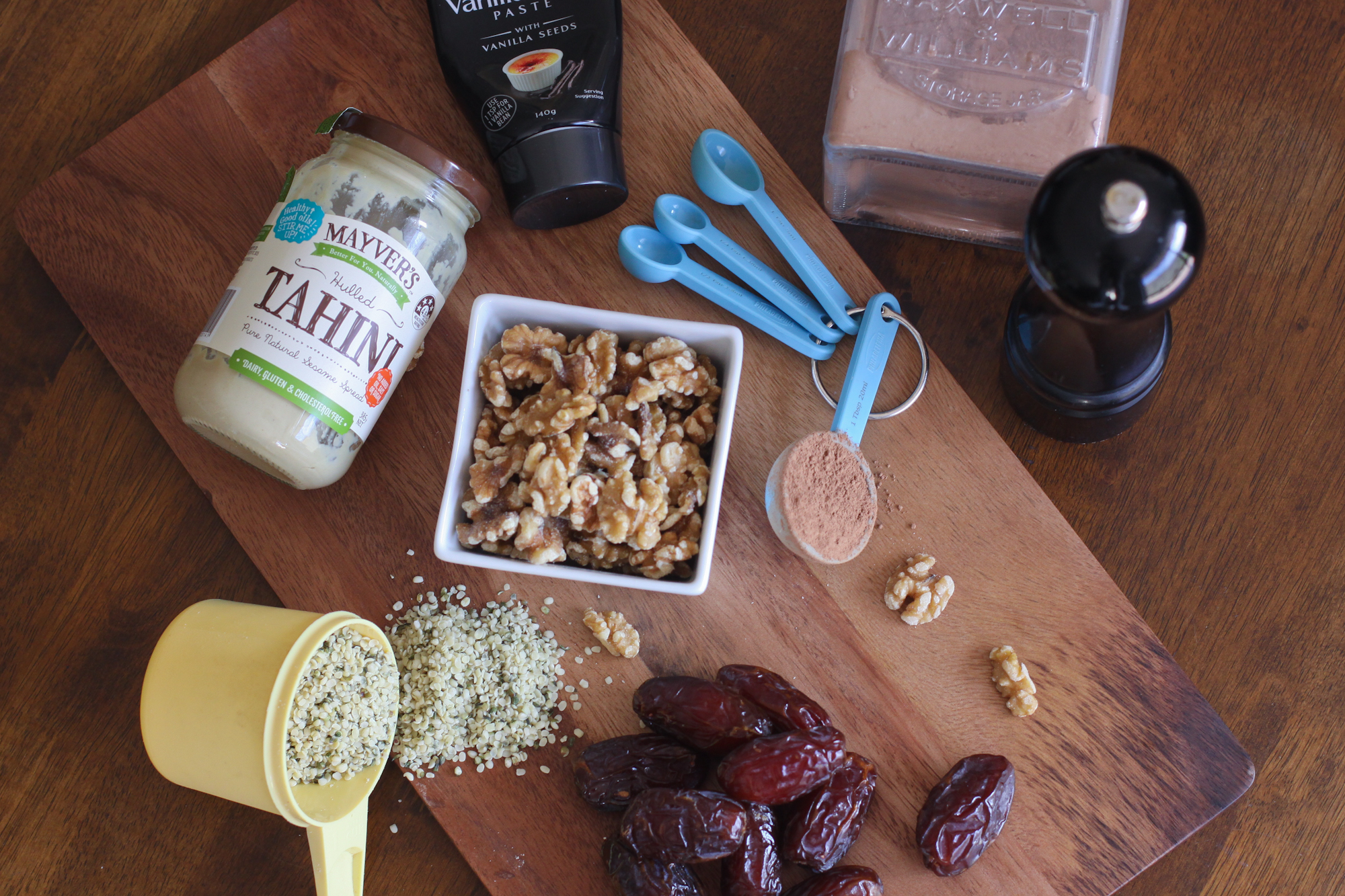 Method
In a food processor, whiz up your walnuts until they resemble a fine meal. Remove from processor.
Process your pitted dates until a ball forms, and scrape down the sides.
Add back in your walnuts and all remaining ingredients, and process until well combined. You should have a soft mixture that can be pressed together.
Roll small handfuls into balls.
Refrigerate for at least 2 hours before serving (if you can wait that long!)
Keep refrigerated in a sealed container for up to 5 days.
Makes 16-18 balls.