Heart disease is the biggest killer in Australia and around the globe.
In 2017 alone, just over 43,000 Australian deaths were due to heart disease, that's about 118 deaths per day! If a virus or flu triggered the same results, we would be in an anxious state of panic.
The crazy thing is that most (if not all) of these heart disease deaths can be halted, prevented, reversed altogether by a simple utensil – your fork.
Your body's cardiovascular or heart system is AMAZING! It has three key parts: 1) your heart, 2) your blood vessels, and 3) your blood. Your heart is the pump that pushes blood through your blood vessels, transporting oxygen and nutrients to every cell in your body.
Heart disease develops by the slow but continuous lining of plaque on the inner walls of your blood vessels (also known as atherosclerotic plaque). This plaque narrows the passageways for blood to flow through, increasing blood pressure, heightening the risk of blockages, and placing greater stress on your heart muscle – all increasing your risk of heart attack, stroke, and sadly death. The scary part is that most of this happens silently, so you won't even see it coming.
The health of your heart system is dependent on your diet and lifestyle. Keeping your blood vessels clean and free from plaque is paramount to keeping your heart happy and feeling great for the long-term.
When it comes to supporting your heart, here are a few things to keep in mind 😉 .
Start early
Focus on preventing heart disease early. The first stages of atherosclerosis and plaque development can start in your early teenage years. The World Health Organisation says that at least 80% of chronic diseases like heart disease can be prevented through diet and lifestyle.
Keep a healthy weight
Being overweight or obese, can significantly increase your heart disease risk. So keeping your body at a healthy weight is vital to supporting your heart. A population-based study looking at 1.2 million women showed that as their body mass index (BMI) increased, their heart disease risk increased too (see Figure 1). To check your BMI, use the Heart Foundation's BMI calculator.
Figure 1. Heart disease risk with increasing BMI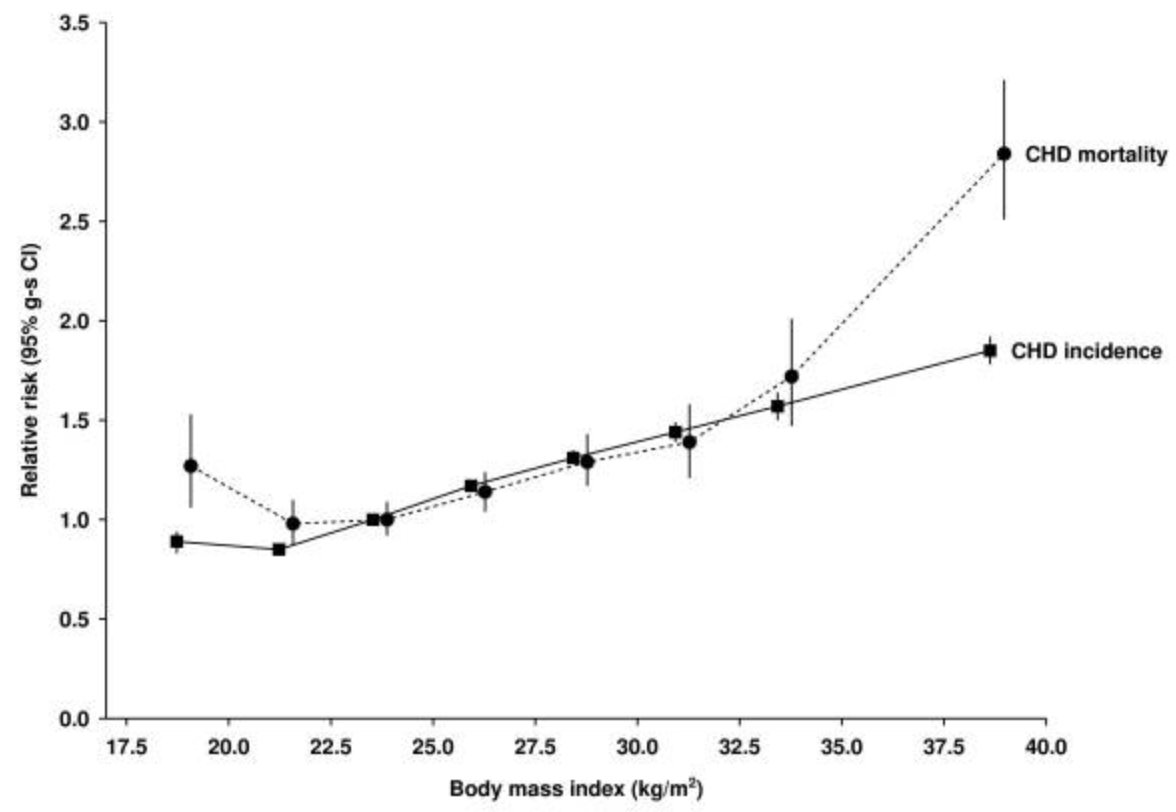 Source: Canoy et al. 2013
The types of fats you're consuming are important
Foods high in saturated 'sticky' fats are one of the biggest culprits in clogging up your blood vessels. Some foods high in saturated fats include: butter, fat on meat, the skin on chicken, full-cream dairy products, deep-fried foods, processed baked goods (like store bought muffins, cakes, and biscuits), and coconut oil. So, you might want to swap your butter for avocado, keep your proteins lean, choose low-fat dairy products, bake healthy muffins at home, and use extra virgin olive oil as your key oil of choice.
Improving your blood glucose levels helps
It's well known that improving your blood glucose or sugar levels helps to lower your heart disease risk too. So, it's not just the fats in your diet but the types of carbohydrate foods you consume that can have an impact too. Talk to your dietitian about this!
Include nuts in your diet
About ¼ cup (about 30g) of unsalted nuts eaten at least five days a week, can help lower your risk of heart disease by almost 30%! Not to mention, nuts are high in vitamin E, an important antioxidant that helps to reduce inflammation.
Use olive oil
Extra virgin cold pressed olive oil (the good stuff) is high in polyphenols that has shown to lower your heart disease risk by improving cholesterol levels, lowering blood pressure, and reducing inflammation in your blood vessels.
Enjoy soy
Soy foods can help to lower LDL 'bad' cholesterol by up to 5%. Having soy milk with your breakfast porridge, smoothie, or in a coffee can be a great and easy way to add soy to your day.
Go for gold with your dark leafy greens
Dark leafy greens are high in nitrates which can help your blood vessels relax, reducing blood pressure. Add at least two big handfuls of rocket, baby spinach, or kale to your meals each day.
Have plant sterols
Plant sterols have shown to lower LDL cholesterol levels by up to 9%! Speak to your dietitian on the best ways to include plant sterols in your diet (P.S. plant sterol enriched margarines aren't the most ideal!).
Don't forget your linseeds
Linseeds (also known as flaxseeds) are little brown seeds that pack a punch! These seeds are high in omega-3 fatty acids, a type of fat known to support heart health. Linseeds are also rich in viscous fibres which create a gel-like solution in your gut, helping to catch 'sticky' fats and stop them from being absorbed into your bloodstream. Sprinkle one tablespoon of ground linseeds on your cereal or salad each day.
Hydrate well
Dehydration causes your blood to become sticky and slow. By increasing your water intake you can help your blood to 'flow' better. Not to mention, increased hydration leads to better focus and concentration, and stops you from confusing your thirst and hunger signals (bonus!).
Have caffeine in moderation
A couple cups of coffee can be ok for the heart, but 4 cups or more may run you into trouble. Also be mindful of the type of milk you have with your coffee, low fat milk or soy is best because they're still high in calcium and protein but lower in saturated fat.
Keep salt to a low
Eating foods high in salt, especially from packaged processed foods (like cornflakes, crisps, ham, packet soups, tomato sauce, and 2-minute noodles) can increase blood pressure levels. So, keep processed foods to a minimum.
Move more
Making time to move more (like a 30-minute brisk walk), can work wonders for your heart. It's also important to find ways to move more during your day, like: getting up and out of your seat at work, standing while you talk on the phone, doing walk and talk meetings, and taking the steps instead of the escalator. Using a pedometer can help too! In fact, studies have shown that using a pedometer motivates users to walk an extra 2000 steps per day!
Stress less
Stress is so over-rated. We worry too much about little niggling things (that amazingly solve themselves out anyways). A little bit of stress is ok and can help us to perform, but too much for too long can slowly hurt your heart in the long run. Remember to have some 'white space' scheduled in your calendar each week where you can relax, meditate, journal, read, or do sometime creative that you enjoy (like painting, knitting, colouring in, singing, or playing an instrument). Going for a walk or stepping outside to get some fresh air can be a great way to clear your mind and relax too.
Reduce alcohol and avoid smoking
Alcohol isn't great for your heart. A glass of wine per day is old news and no longer holds truth, in fact a recent Lancet journal states that, "alcohol use is a leading risk factor for global disease burden and causes substantial health loss…the level of consumption that minimises health loss is zero" – meaning no amount of alcohol is safe.
Smoking is definitely a no go, smokers are four times more likely to die from heart disease than a non-smoker. If you need support with quitting please contact Quitline.
Get your cholesterol, blood pressure, and weight checked
If you haven't had your cholesterol levels, blood pressure, or weight checked recently, please do! It's important to keep an eye on how your heart health is tracking – so check in with your GP and dietitian regularly.
Choose well
Your health and heart is everything! Investing in it now by using your fork wisely will not only boost your energy levels and help you feel fantastic, but also (nudge nudge) help you hit new heights in the bedroom (yes squeaky clean blood vessels can do wonders down there too!). We've mentioned a few key winners for heart health but if you would like more personalised support, we would love to coach you in developing a nutrition and lifestyle plan that keeps your heart singing!
To take advantage of our special 'heart health' offer for May, please click here!
Wishing you the very best with your hearth health!
Marike and the Nutrition Sustain Team 🙂