What a beautifully funky salad we have in store for you today! But what on Earth is freekeh, you ask!? Freekeh (pronounced free-kah) is young green wheat that is harvested before the plant is mature, and then roasted. It is high in fibre, protein, zinc and iron and absolutely perfect to keep you strong and healthy (move over, quinoa!). Freekeh has a unique smokey yet nutty flavour, and when cooked has a similar texture to brown rice.
When mixed with some caramelised oven-roasted vegetables, ready to go lentils, and a sumptuous balsamic and rosemary dressing (hello sneaky antioxidants!) – it's your new go-to balanced meal supported by 'the plate' concept, keeping your weight and blood sugar in check, and your dietitian happy ;).
Note: We've used wholewheat freekeh in our recipe, but if you find the cracked version, halve the cooking time.
Top tip: Cook up extra freekeh in your pot and save the leftovers in a container in the fridge for up to 4 days to add to work lunches or quick dinner meals.
Ingredients
1 Cup whole grain freekeh
1.5 Litres water
½ tsp salt
1 red onion
1 brown onion
1 sweet potato
2 Carisma potatoes
3 carrots
2 beetroot
2 Tablespoons extra virgin olive oil
1 tin brown lentils, drained and rinsed
Spinach or mixed greens, to serve.
Dressing
2 Tablespoons balsamic vinegar
¼ Cup extra virgin olive oil
1 ½ Tablespoons honey
1 teaspoon fresh rosemary, finely chopped
¼ teaspoon of salt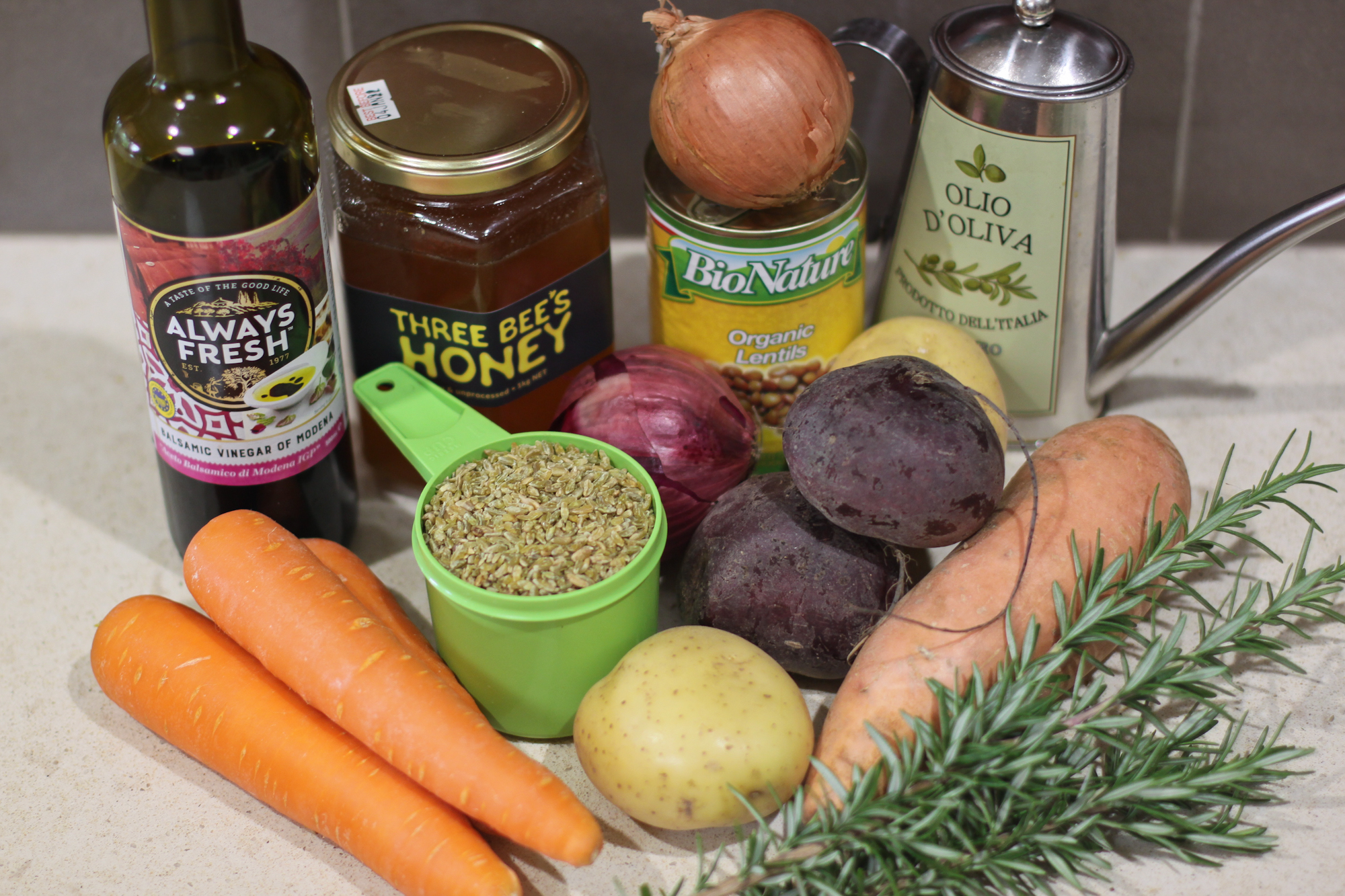 Method
Preheat your oven to 200°C and prepare two oven trays with a layer of baking sheet.
Pour your water into a large pot, add ½ teaspoon of salt and bring to the boil.
While your water is getting hot, chop your veggies into 3cm cubes and the onions in large wedges, and place into a large bowl. Coat with your 2 tablespoons of olive oil, mixing well.
Meanwhile, your water should be boiling. Carefully pour your freekeh into the boiling water and cook for 40 minutes, stirring occasionally.
Spread your vegetables out onto prepared oven trays, and bake for 40 minutes. Add more olive oil if needed.
Drain and rinse your lentils and set aside.
Next, make your dressing by combining all dressing ingredients in a jar and shaking vigorously. If you don't have a spare jar or tightly sealed container, whisk them up in a bowl. Set aside.
When your freekeh is tender but still chewy, drain off the excess water and place the freekeh into a large, clean bowl.
Add the lentils and roasted vegetables to the freekeh, and mix together gently to keep the vegetables intact.
Serve warm over a bed of spinach or mixed greens. Have as is or add a small serve of cooked protein on the side.
Drizzle your reserved dressing on top.
Enjoy! NS xx
Serves 4.