Smoothies can be one of the most convenient and nutritious breakfasts! Many of the smoothies you may come across, however, can consist of mainly fruit that will digest quickly and leave you hungry soon after, and others are too darn complicated with expensive ingredients! So the important question is: what key simple must-have ingredients should you add to your smoothie? Read on to discover the answer :).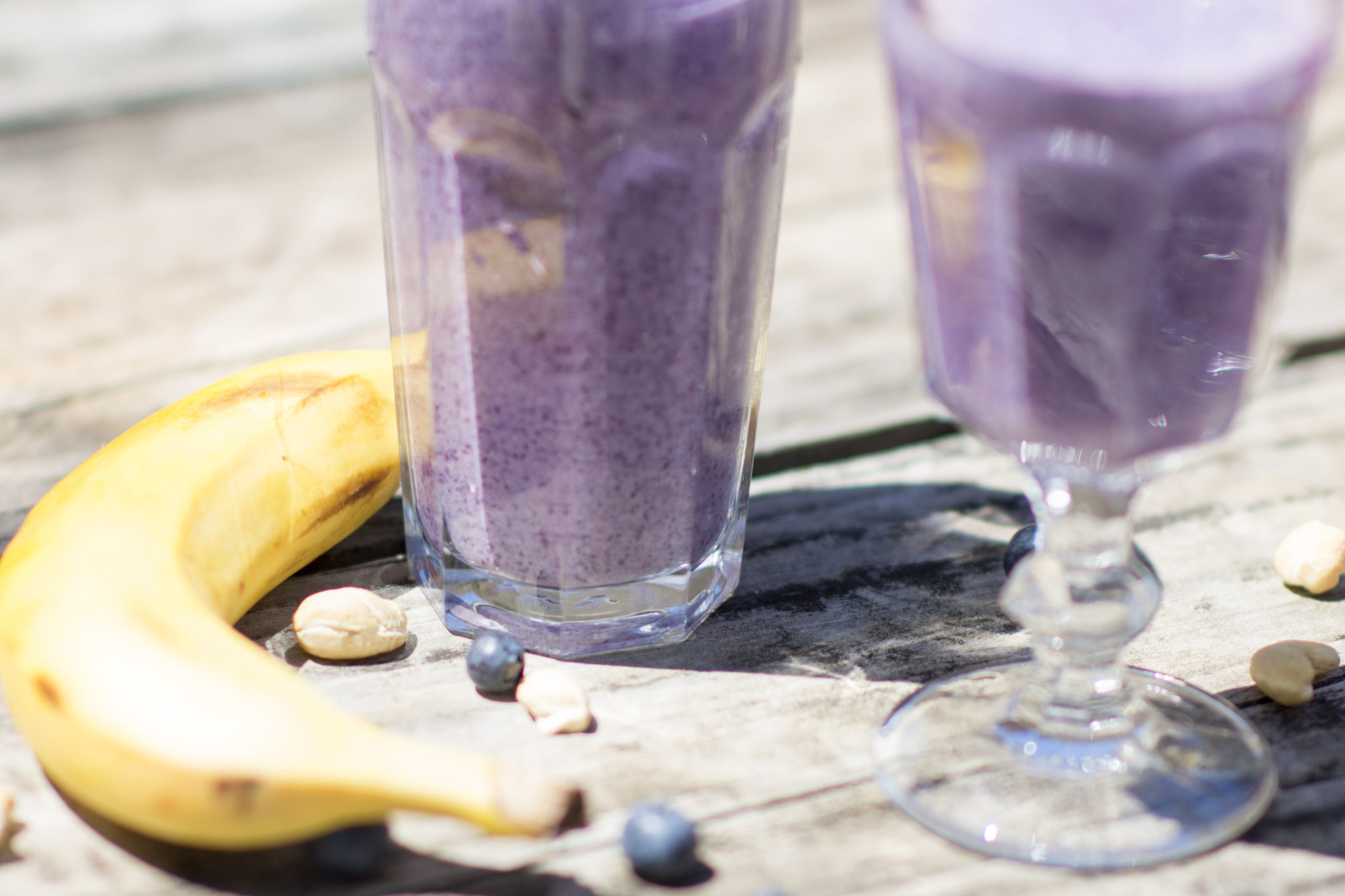 1. Start with a creamy base
We love to start with bananas to give that lovely thick and creamy texture. A great idea is to freeze your bananas into small chunks ahead of time, as blending these will make for an even thicker smoothie! Bananas boast a healthy dose of potassium for a healthy blood pressure, B vitamins for energy, and fibre to help you feel full. Starting your smoothie with fruit also alleviates the need for added sweeteners, keeping the GI of your meal low and giving you a steady release of energy.
An honourable mention goes to avocado. Half an avocado can be a great way to add some extra plant based creaminess. Avocados are full of fibre, potassium, and heart healthy fats. What a way to start your day!
2. Add nourishing fats
Nourishing fats will help feed your brain and cells but also give you sustained energy throughout your morning. We've already mentioned avocado, but what other ingredients can we add?
Nuts are a fantastic heart healthy fat which can ramp up the nutrition and fullness factors of your smoothie. Tasty nuts you could try, include: almonds, cashews, walnuts, or even delicious hazelnuts. Or use some nut butters if your blender is on the dodgy side.
Seeds are another great option, think: chia seeds, hemp seeds, flax/linseeds, pepitas, sunflower seeds, or tahini.
Note: If you have a nut allergy, try adding 1/3 cup of traditional rolled oats to your smoothie to give you a sustained energy release. The fibre in oats (beta-glucan) helps lowers cholesterol and also keeps you from experiencing the dreaded mid-morning energy crash.
3. Consider calcium
If we're forgoing our cereal and milk for the morning and opting for a smoothie, it's a good idea to think about replacing the calcium we could be missing out on. Many people tend to use water in their smoothies which just isn't going to cut it for our calcium needs or for keeping us full. Because if you think about it, without the milk it's just a snack of fruit and nuts!
Our milk of choice is organic soy milk because of its complete protein profile and its low impact on the environment. Be sure to look for a milk with around 250-400mg of calcium per serve to help you cover your daily needs. Some of the milk alternatives like rice and oat can be very low in protein and/or calcium and tend to be high GI (meaning a potential energy crash mid-morning), so be sure to check the labels if you aren't choosing soy or dairy milks.
4. Ramp up your antioxidants
This is it! The sneaky way to sneak more nutrients into your life! Antioxidants are so important in fighting inflammation, disease, and premature ageing. And, it's super easy to get more in your diet by adding them to smoothies.
Antioxidants come in a rainbow of colours. Different berries, leafy greens, cacao, carob, herbs, and spices (like cinnamon and cloves) are all jam-packed.
Berries are the obvious and most delicious choice, but if you're keen for some green then something like banana and mango paired with spinach and coriander leaves is surprisingly refreshing! If you are more of a spice fiend, then a teaspoon of cinnamon and pinch of cloves in your banana, date and almond butter smoothie will blow your mind!
This is where you can really get creative and add extra colour, and nutrition!

Some delicious examples
Frozen banana + almond butter + soy milk + cinnamon & dates
Frozen mango + hemp seeds + almond milk + coriander & kale & lemon juice
Frozen banana & avocado + hazelnuts + soy milk + cacao powder
Fresh banana + almonds & flaxseeds + almond milk + frozen berries & baby spinach leaves
A note on protein powders
Although not always necessary, protein powders can be a great way to add extra protein to your smoothies. This is especially the case if you're choosing a low-protein non-dairy milk alternative (like almond milk). Choose plant protein powders (like hemp protein, sprouted rice protein, and pea protein) as these also contain fibre, antioxidants, and have anti-inflammatory properties.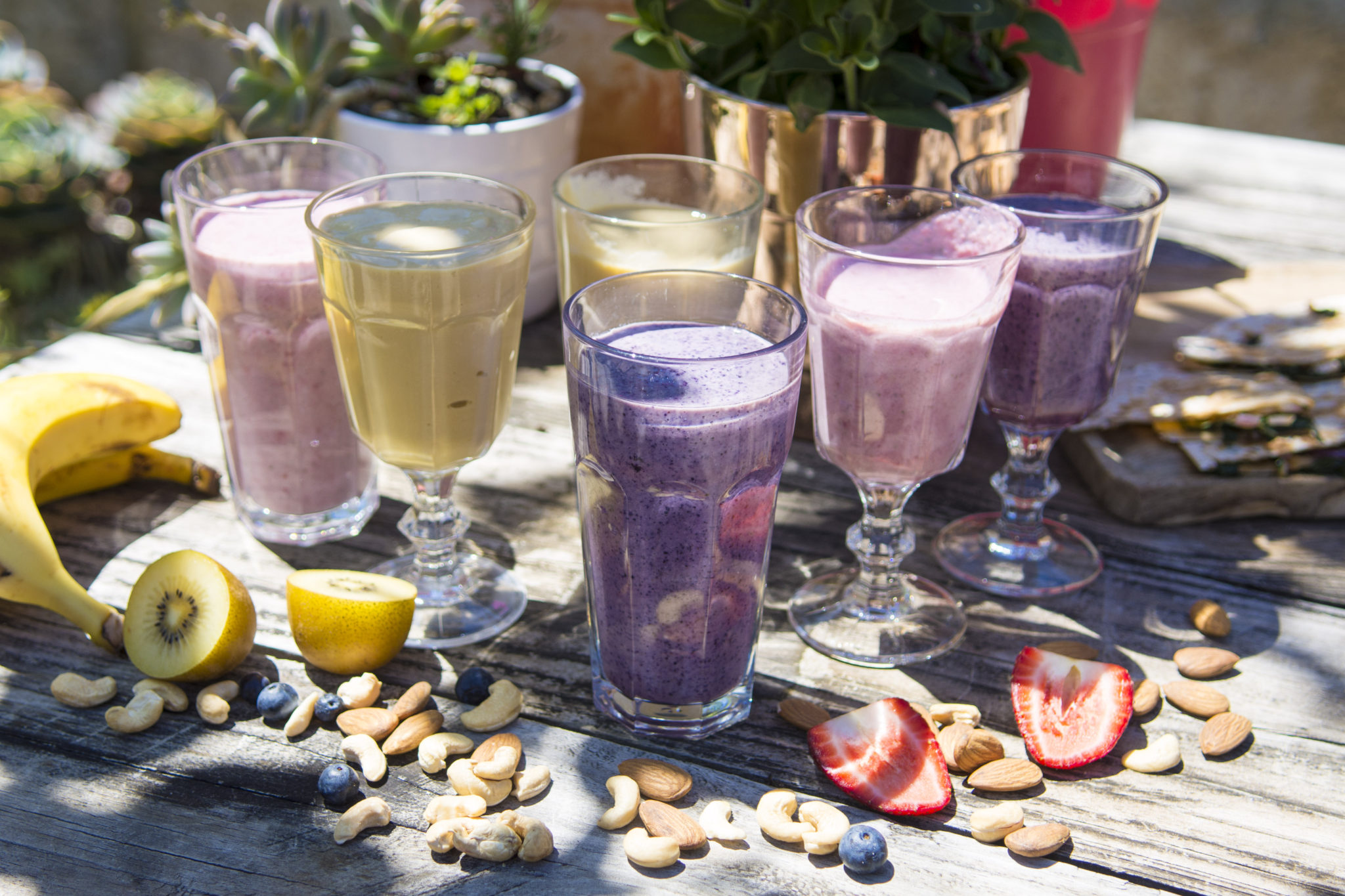 So there you have it! Four simple, cost effective steps for making a quick, nourishing, and sustaining smoothie breakfast. Let us know in the comments if you discover any weird and wonderful smoothie combinations that you think we would love!