It's such a treat to make your own curry! The amazing aroma of spices, the tantalising flavours, and the satisfaction of creating your entire meal from scratch, makes the extra effort completely worth it!
This chickpea curry has a beautiful blend of anti-inflammatory, immune boosting and anti-ageing spices, making it perfect for…well everyone, really! It's even child friendly as it skips the chilli – but if you're a dare devil, feel free to throw some in ;).
The chickpeas are an excellent plant based protein alternative for this meal, making it a cheaper and easier option (especially if you're using tinned chickpeas). The cooked tomatoes provide lycopene and vitamin C, adding to your body's cellular defences. And the handful of baby spinach – added just before serving – will provide some beautiful vitamins and minerals including: vitamin K, calcium, and iron. Any leftovers will taste even better a day or two later – but it's doubtful you'll have any left for that long!
Enjoy, love NS xx
Ingredients
2 red onions, sliced
½ Tablespoon of extra virgin, cold pressed olive oil
½ teaspoon turmeric
3 teaspoons garam masala
2 teaspoons curry powder
2 teaspoons cumin
1 teaspoon ground coriander
4 garlic cloves, crushed
1 Tablespoon crushed/finely chopped ginger
2 tomatoes, diced
2 potatoes, diced into 1.5cm cubes (skin on for extra fibre!)
2 carrots, sliced into rounds
1 tin chickpeas, drained and rinsed
1 400mL tin of light coconut milk (make sure it's light to help reduce the saturated fat content)
1/2 Cup vegetable stock
6 Cups of baby spinach, roughly chopped
Juice of half a lemon
1 Tablespoon of raw sugar
Cooked long-grain brown rice, black rice, or basmati rice, to serve
Chopped fresh coriander, to serve (optional)
Sea salt to taste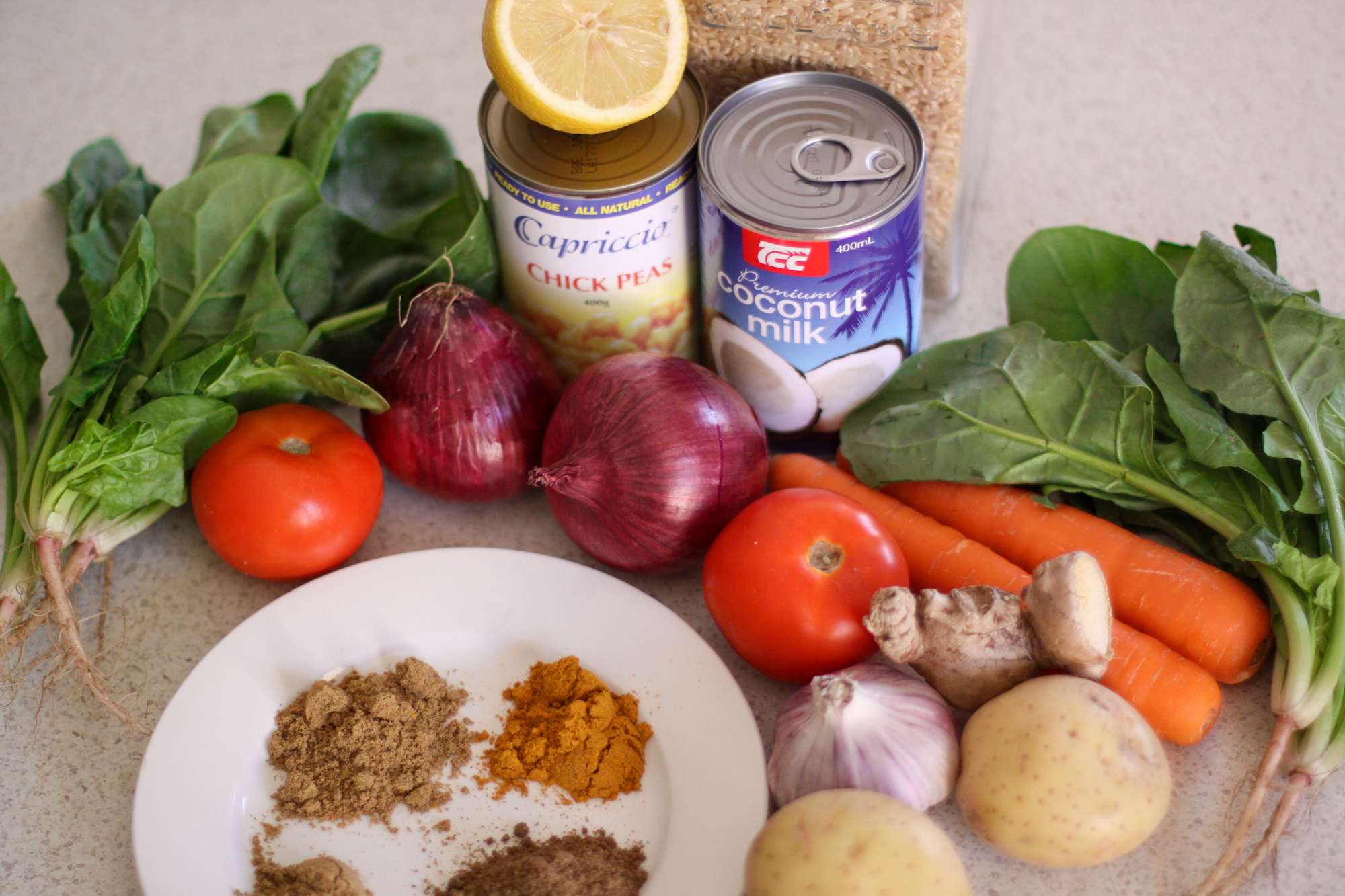 Method
Start by setting your brown rice to cook in a pot according to package instructions.
In a wider pot or pan, sauté your onions in the olive oil until soft.
Mix through your spices for 1 minute.
Add your garlic, ginger, and tomatoes, and continue to cook for 3 minutes until fragrant.
Add the potatoes and carrot, and allow to sauté for 2-3 minutes, mix to ensure it doesn't stick to pan.
Add chickpeas and mix through.
Add the coconut milk and stock and mix well, then bring to the boil.
Reduce heat to low, cover with a lid, and simmer for 20 minutes, stirring occasionally.
Finally, add your lemon juice, chopped spinach, and sugar.
Cook for 2 minutes or until your spinach is wilted and soft.
Serve over long-grain brown rice.
Use sea salt and freshly chopped coriander to flavour if desired.
Serves 4.