Baba ganoush! Fun to say and even more fun to eat, this Middle Eastern eggplant dip is a tasty alternative to hommus which has been scientifically shown to reduce your risk of heart disease. How? Well, the vitamins K and E found within eggplant help to lower blood pressure and reduce the likelihood of blood clots, and its antioxidants reduce inflammation. All of these factors together (plus other disease fighting phytochemicals!) work to improve the health of your heart, reducing the risk of heart attacks, stroke and chest pain.
Bust out your veggie crudites and wholemeal pita bread and dig in to this luxuriously smoky roasted eggplant dish with your family and friends!
Ingredients
2 medium eggplants
2 large garlic cloves, with skin
¼ Cup of tahini
2 Tablespoons extra virgin cold pressed olive oil, plus extra for coating eggplant and garlic
2 Tablespoons lemon juice
¼ teaspoon cumin
½ teaspoon sea salt
Extra virgin olive oil, for garnish
Paprika, for garnish
Parsley, for garnish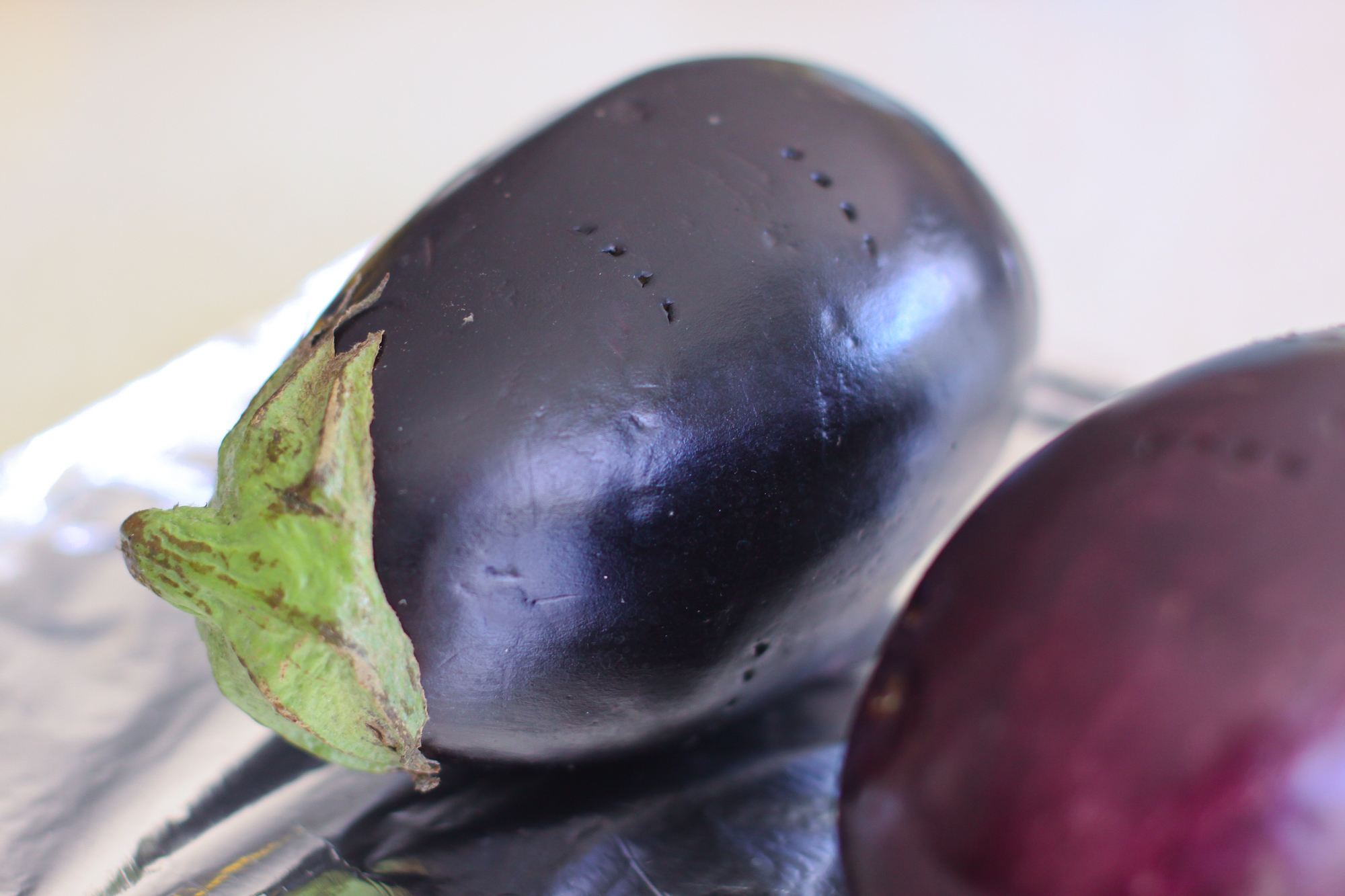 Eggplants come in all shapes, sizes, and shades (nightshades!) 
Method
Poke the eggplants all over with a fork.
Pre-heat your oven to 180°C.
Place eggplants and garlic cloves on lined tray (can line with baking paper or aluminium foil). Drizzle your whole eggplants and garlic cloves with olive oil and place into oven.
Bake your eggplants and garlic for 45-60 minutes (depends how big your eggplants are) or until your eggplants darken on the outside and appear to be collapsing. (Note: it's ok if the skin starts to darken and turn black, as you'll just be using the soft flesh inside).
Allow to cool on tray for 15 minutes.
Cut your eggplants in half and scoop out the very soft flesh into a food processor or blender, leaving the skins behind.
Peel your garlic cloves and add to the eggplant.
Add your tahini, olive oil, lemon juice, cumin, and sea salt, and process until well combined.
Serve at room temperature garnished with olive oil, paprika and parsley. We love dunking fresh veggie sticks like carrot, cucumber, and capsicum (no double dipping from share plates! 😉 ), and spreading on wholemeal pita breads with tabbouleh.
Store for up to 4 days in an air tight container in the fridge.
Serves 8.