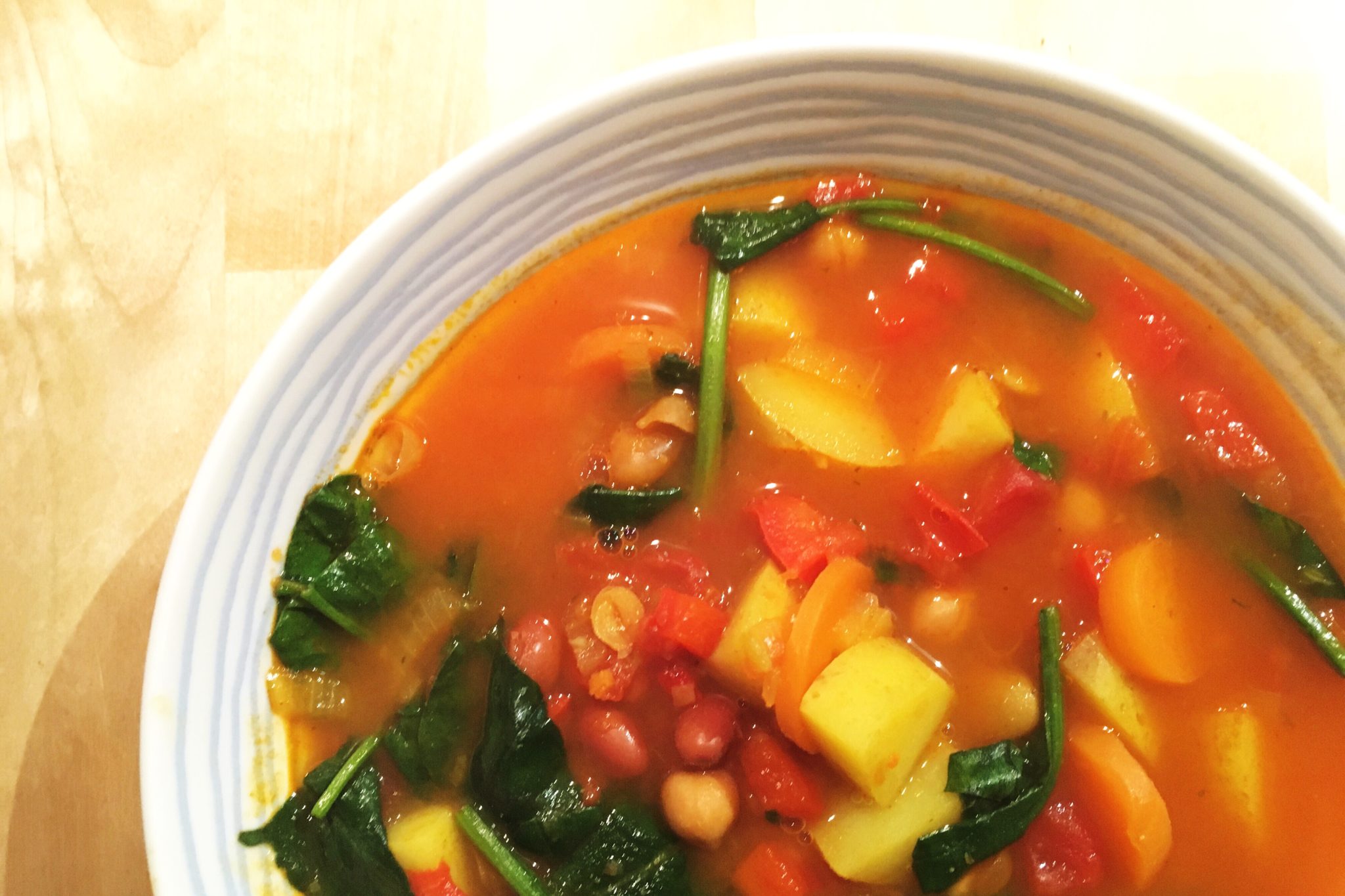 A good bowl of soup not only warms the body but also the soul, especially during the cold wet months of Perth.
This soup has the famous '4 beans' to help provide protein and extra fibre to keep you feeling fuller for longer. And is combined with three different veggies for an antioxidant and immunity boost: reds with lycopene (tomato and capsicum), orange with betacarotene (carrot), and greens with folate (spinach).
Enjoy this easy, tasty, and nutrition packed dish 🙂 !
Ingredients
2 Tablespoons of extra virgin olive oil
1 large onion
1 teaspoon sea salt
1 teaspoon turmeric
1 teaspoon smoked paprika
½ teaspoon coriander seed powder
1 red capsicum, sliced and chopped
1 medium to large carrot, sliced
4 small potatoes, cut into small chunks
2-3 x tin (400 g) of 4-bean mix, drained and rinsed
1 x tin (400 g) of chopped tomatoes
1 teaspoon of raw sugar
2 teaspoons of vegetable stock powder
4-5 cups of boiling water
1 fresh bunch of English spinach, washed with roots removed, and cut into thirds
Method
Saute onion in olive oil until translucent, and then add salt, turmeric, paprika, and coriander.
Mix spices through and then combine capsicum, carrot, and potato.
Allow to cook for 5 minutes, stirring regularly.
Add the 4-beans and mix through.
Add the tin of chopped tomatoes, sugar, vegetable stock, and boiling water.
Stir and simmer for 30 minutes on low-heat, or until potatoes are soft but still firm.
Prior to serving, add English spinach and mix through.
Enjoy!
Serves 6.